Why a Career With Ciocca Dealerships?
Ciocca's most valuable assets aren't the vehicles or the buildings. Our people drive our successful business. Providing a quality living for our employees, in turn, drives Ciocca's leadership. At both the corporate and dealership levels, we want to ensure our employees are being rewarded for their hard work.
The Ciocca Difference
The Ciocca Difference lies within our dedicated employees. Ciocca Dealerships is committed to investing time and resources to allow our employees to do what they do best! Having a safe, modern facility with the proper tools and motivated staff is key to Ciocca success.
Working For Mr. C
"He always mentions family f
irst, and he means it." Listen to what our technicians have to say about being part of the Ciocca family. The value Ciocca puts on a balanced, fulfilling life outside of the workplace cannot be understated.
I Love What I Do
Ciocca Dealerships strives to create the best working environment possible for our employees. In turn, our employees are motivated, happy, and successful. Become part of a team with a commitment to excellence today!
A Close Knit Team
Work environment, cleanliness, modern equipment, professional teams, unlimited earning potential. The list of reasons to join the Ciocca Family of Dealerships is endless. Apply today!
Benefits of Being a Ciocca Technician
401K with Employer Match (Free Money!)

Paid Time Off/Benefits

Referral Program

Career Path

Company Growth

Paid Inspection/Emissions License

Paid Continuing Education (ASE/Factory Training)

Flexible Schedules (Part Time/Full Time)

Technician Loyalty Program - Coming Soon!

Recruitment Package**

Competitive Pay**
Technical School Recruitment Package
$33,000 Value!
Sign-On Bonus

$1,500 paid out as follows

$500 paid out after 90 days of employment

$500 paid out after 180 days of employment

$500 paid out after 1 year of employment
Tool Purchase Program

$1,500 paid out as follows

$500 Starter Tool Set upon hire

$1,000 Tool Voucher after 1 year of employment
Tuition Reimbursement

Maximum payout potential of $30,000 as follows

$250 per month over a maximum of 10 years
Uncapped Pay & Career Growth
Potential to make over $100,000 per year!

Hourly vs. Flat Rate Pay

Tiered Bonus Structure

12-month program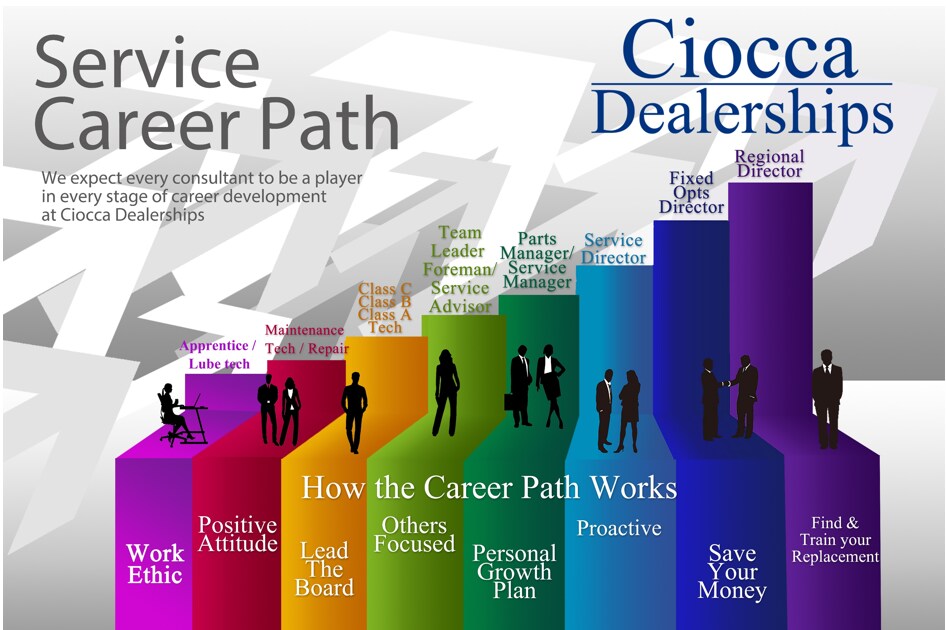 Ciocca Dealerships

2141 Downyflake Lane, Allentown PA
Allentown, PA 18103


Audi Allentown

4725 Hamilton Blvd
Allentown, PA 18103


Audi State College

3220 W. College Avenue
Building 1
State College, PA 16801


BMW of Williamsport

205 Lycoming Mall Drive
Muncy, PA 17756


Ciocca Atlantic City

430 N Albany Ave.
Atlantic City, NJ 08401


Ciocca Cadillac of Atlantic City

430 N ALBANY AVE
ATLANTIC CITY, NJ 08401


Ciocca Chevrolet of Princeton

200 Renaissance Blvd.
Lawrence Township, NJ 08648


Ciocca Chevrolet of West Chester

715 Autopark Blvd.
West Chester, PA 19382


Ciocca Chevrolet of Quakertown

855 S WEST END BLVD
QUAKERTOWN, PA 18951


Ciocca Corvette of Atlantic City

430 N Albany Avenue
Atlantic City, NJ 08401


Ciocca Ford of Quakertown

1531 Park Ave
Quakertown, PA 18951


Ciocca Honda of Williamsport

201 Lycoming Mall Dr.
Muncy, PA 17756


Ciocca Honda of Harrisburg

8001 Allentown Blvd
Harrisburg, PA 17112


Ciocca Hyundai of Williamsport

202 Lycoming Mall Drive
Muncy, PA 17756


Ciocca Hyundai of Quakertown

520 S. West End Blvd.
Quakertown, PA 18951


Ciocca Kia

1710 N Olden Ave
Trenton, NJ 08638


Ciocca Lincoln of Lawrenceville

2920 Brunswick Pike
Lawrenceville, NJ 08648


Ciocca Nissan of Quakertown

301 S. West End Blvd
Quakertown, PA 18951


CIOCCA NISSAN OF QUAKERTOWN

1531 Park Avenue
QUAKERTOWN, PA 18951


Ciocca Ford of Lawrenceville

2920 Brunswick Pike
Lawrenceville, NJ 08648


Ciocca Subaru of Ewing

1710 N Olden Avenue Ext
Ewing, NJ 08638


Ciocca Subaru of Flemington

167 State Route 31
Flemington, NJ 08822


Ciocca Subaru of Philadelphia

1400 S. 33rd St.
Philadelphia, PA 19146


Ciocca Subaru of Pleasantville

401 West Black Horse Pike
Pleasantville, NJ 08232


Ciocca Subaru of Allentown

4611 Hamilton Blvd
Allentown, PA 18103


Ciocca Toyota of Williamsport

203 Lycoming Mall Drive
Muncy, PA 17756


Ciocca Volkswagen of Allentown

1346 Lehigh Street
Allentown, PA 18103


Ciocca Volkswagen of State College

3220 West College Avenue, Building 2
State College, PA 16801


Faulkner Buick GMC West Chester

705 Autopark Blvd
West Chester, PA 19382


Ciocca Ford of Quakertown

780 S West End Blvd
Quakertown, PA 18951


Ciocca Ford of Souderton

3470 Bethlehem Pike
Souderton, PA 18964


Ciocca Ford of Souderton

3470 Bethlehem Pike
Souderton, PA 18964


Faulkner Buick GMC West Chester

705 AUTOPARK BLVD
WEST CHESTER, PA 19382


Ciocca Volkswagen of Flemington

213 US Highway 202
Flemington, NJ 08822


Mercedes-Benz of Flemington

135 Route 31
Flemington, NJ 08822


Mercedes-Benz of State College

127 Leisure Lane
State College, PA 16801


Porsche Flemington

213 Us Highway 202/31 S
Flemington, NJ 08822

Visit us at: 2141 Downyflake Lane, Allentown PA Allentown, PA 18103